Power Monitor
This example shows how to implement a real time Power Monitor in JavaScript for a mobile device. This implementation require an Xively account (www.xively.com) in order to get the historical data sequence in a chart format.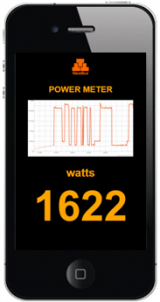 smartphone interface example



System Implementation

This implementation works in manual mode asking the remote agent (Arduino) the power reading in a periodic way. The system use the Cosm Connector to send the reading to Xively in order to show it in a graphical way. On the other hand a independently javascript code running from a mobile device ask to the NearBus system in a periodic way the last power reading to show it on the mobile device.

Only two hadware components are needed to implement this real time Power Monitor: An Arduino Board (Ethernet / WiFi) and an AC Current Sensor [1] as showed in the following picture.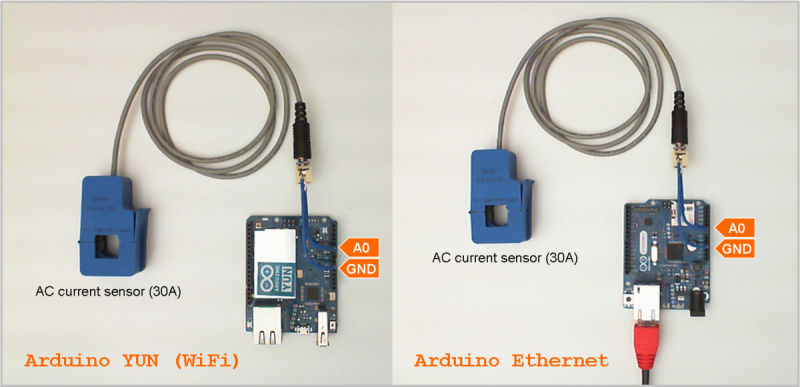 The AC Current Sensor is connected to the A0 analog inpur on the Arduino board.


IMPORTANT: the current sensor only should be installed on only one power wire (of two). If you place both power wires into the sensor,
then the reading will be 0 (zero).

Configuring the Manual Mode
In order to get samples from the sensor in a continous way, you should configure the RMS_INPUT service in manual mode for the selected channel (the port in which the sensor will be connected). In this example we will use the Channel 0 (A0 3 in an Arduino platform). The following picture shows this configuration.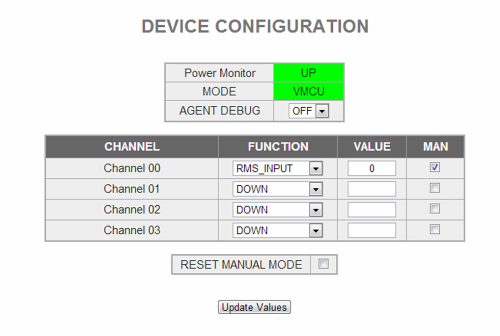 ---
Xively Configuration (formerly Cosm)

This screen allows you send to Xively (www.xively.com) the values received from or transmitted to the remote device over each channel.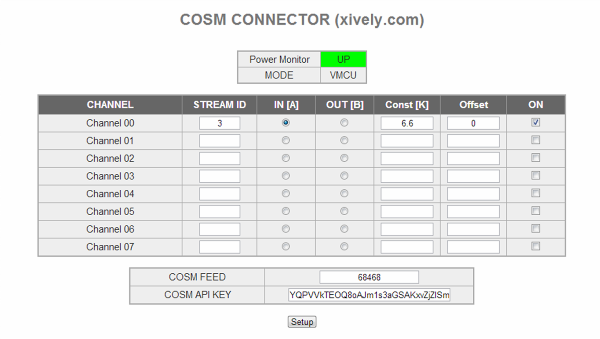 Stream ID: This field allows you to set the Xvely's (Cosm) datastream where you want to send the signal.
IN / OUT: This option allows you to indicate if you want to send a readed value (input) from the remote device or the written value (output) to the remote device for each channel.
Constant and Offset: The main advantage of this feature is that it allows you to apply a basic transfer function to your signal before sending it to Xively (Cosm):

     f(x) = x * K + offset

ON: This option allows you to turn on or off the data feed to Xively (Cosm).
Xively Feed and API Key: This option allows you to configure the required parameters to connect succesfully to www.xively.com.


In this example we use a constant factor of 6.6. This factor is obtained in the following way:
Power Line tension: 220 Vac
Current Sensor Ratio: 30:1 (30Aac= 1Vac)
RMS_INPUT scale: mV (RMS)
K = 220 * 30 / 1000  = 6.6 [W/mV]


Note: this is a calibration example. In order to calibrate your Power Monitor you should use a well-known resistive load (and adjust the K factor to match its value).

The following picture shows a real system power chart (Xively). It is important to remark the amount of information that can be obtained from it. In this example the chart represents a measure of our lab enviroment, where an electric heater (about 1400W) and a small refrigerator (about 175 W) are working together, each with its own power fingerprint, as indicated in red on the Xively output chart (note that a residual power consumption of 196W is always present).
Javascript Code

The following code will allow you to display the sensed power in a graphical way from a mobile device or desktop computer. In order to run this example, download the following file in you mobile device or computer, change the parameters indicated with "****" and execute it. Double click onto the downloaded "html" file in order to run it on your default browser.

This example is calibrated to use a 30A AC Current Sensor [2] but you can use any other current sensor sensor that you want (you only should change conversion factor). In this example a conversion factor of 6.6 is used.
Note: that the Xively transfer function does not affect the value read with the RMS_INPUT service.
Download: Power_Monitor_0v1.zip [3]

In order to run this example you should edit it (eg. notepad) and replace the following parameters:
var device_id  = "NB100xxx";		// You NearBus Device ID
var user       = "****";            	// Your NearBus Web user
var pass       = "****";            	// Your NearBus Web password


<!DOCTYPE html>        
<!-- ****************************************************************************************************************************** -->  
<!-- * NEARBUS JAVASCRIPT EXAMPLE - www.nearbus.net                                                                               * --> 
<!-- * Description: This simple code shows how to implement a power monitor on a Smartphone                                       * --> 
<!-- * This example requires an Xively account (www.xively.com) in order to record the power registers in a historical way        * --> 
<!-- * The system is configured to work with a AC Current Sensor                                                                  * --> 
<!-- * Support: info@nearbus.net                                                                                                  * --> 
<!-- ****************************************************************************************************************************** -->  
<!-- * REVISION HISTORY                                                                                                           * -->
<!-- * v0.1 - 28-11-13 - Initial Release                                                                                          * --> 
<!-- ****************************************************************************************************************************** --> 
<html>
<head>
<script src="http://code.jquery.com/jquery-1.9.1.min.js"></script>
<script type="text/javascript" src="PAGE" ></script>
<script type='text/javascript' src='http://nearbus.net/downloads/js_apps/nearapi_v05.js'></script>


<script>
// +--------------------------------------------------------------------+
// | To run this example you should replace the following parameters    |
// | device_id         Your device ID, or.. devices ID :)               |
// | user              Your NearBus Web user                            |
// | pass              Your NearBus Web password                        |
// +--------------------------------------------------------------------+


//////////////////////////////////
// MAIN CONFIGURATION
//////////////////////////////////
var device_id     = "NB100xxx";     // Your device ID
var user          = "****";         // Your NearBus Web user
var pass          = "****";         // Your NearBus Web password
var LOOP_DELAY    = 2000;
var power         = 0;
    
    window.onload = function ()
    {
        ///////////////////////////////////
        // Function: Main Loop
        ///////////////////////////////////
        setInterval( function()
        {
            ret = NearAPIjs( "RMS_INPUT", device_id , 0, 0, "RONLY" );
            if( ret != "WAIT" && !isNaN(ret) ) {
                power = Math.round( ret * 6.6 ); 
                $('#field_1').text( power.toString() );    
            }
        }, LOOP_DELAY );                
    }


</script>

<body bgcolor="#000">
<br />
<p><div style="text-align:center; width:950px"><img src="http://nearbus.net/images/logo_nearbus.png" width="140" heisgth="78"</div></p>
<br />
<p><div style="text-align:center; width:950px; font: bold 60px Arial; color:orange;">POWER MONITOR</div></p>
<br />

<!-- this line embed a 750 x 400px feed chart form www.xively.com (former cosm.com) --> 
<!-- you should replace the "feed" and the "zone" in order to get the chart from www.xively.com  --> 

<div id="div_temp_chart_cm"> <img src="https://api.cosm.com/v2/feeds/****YOUR_FEED_ID_HERE****/datastreams/****YOUR_CHANNEL_NAME_HERE****.png?width=750&height=400&colour=%23f15a24&duration=3hours&show_axis_labels=true&detailed_grid=true&timezone=****YOUR_ZONE_HERE****" > </div>

<br />
<br />
<p><div style="text-align:center; width:950px; font: bold 60px Arial; color:orange;">watts</div></p>
<p><div id="field_1" style="text-align:center; width:950px; font: bold 300px Arial; color:orange;">. . . .</div></p>
</body>
</html>